Update Nov. 1, 2009 Congratulations to Natashya' Kitchen Puppies! Her number, #2, was chosen as the winner in the comment section. Natashya when you see this update, please email me with your info so I can mail your gift off. Thanks for "playing."
2
Random numbers generated Nov 1 2009 at 21:15:39 by www.psychicscience.org
Free educational resources for parapsychology, psychical research & mind magic.
As many of you may know, I decided to celebrate my 2 year blogoversary this month with a Pizza Party Mix-Up! Game. As is the case with many of my posts, I got a wee bit carried away. This time, perhaps, with utterly confusing details. Live, learn, blog:)
None the less, there was indeed an entry. It arrived from Australia just a few days ago from Susan. Susan has a delectably charming blog over at Dragon Musings. She baked up The Funky Lime Pizza recipe she found over at Pass The Beans Please and turned it into Mother's Delicious Home Made Pluto.
The Winners!!!

Funky Lime Pizza

Mother's Delicious Home Made Pluto
Both WINNERS will each win a box full of goodies chosen by me from the Pampered Chef® The Pizza Party Set includes a Large Round Pizza Stone, which also has handles, a Pizza Cutter and a Pizza Crust and Roll Mix tucked in the boxed kit.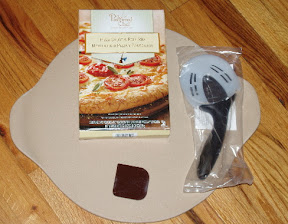 Prize #3,
which is a choice prize of either a
Pampered Chef Pizza Cutter,
or a copy of The Pampered Chef's Cook's Library cookbook
Festive Holiday Dessert Recipe Collection;
 is still waiting to be claimed. All you need to do is leave a comment in the comment section below by midnight, October 31st and I will choose a winner with the online Random Generator. The winner will be posted November 1. Have FUN! and thanks for "playing,"
Louise:)
Note: Winners, please email me @ acalenda [at] google [dot] com with pertinent information so I send your Pizza Kits ASAP.