While I was trying to catch up on some blog visits the other day, I heard a little voice beckoning me into the living room. It was Marion, of course:)

"I know what I want for breakfast Easter morning," she squealed, as I approached the couch.

"Oh you do, do ya" I answered.

"I don't want you to look at the picture." "I'm just going to tell you the name and you tell me what you think" she bantered:)

Without hesitation, I agreed:)
Marion hasn't been feeling well the last couple of weeks. Nothing serious considering she is 93 years young after all. And she isn't one to complain, quite the contrary. If it weren't for the fact that she visited me out in the garden a couple of weeks ago with her walker at her side, I wouldn't have even known that she was having her Spring attack of the gout! I don't want to sound insensitive, because we do joke about it each year, but, for some reason, a sure sign of Spring's arrival around here is when Marion has to whip out the walker. (don't tell her I told you though she wouldn't like that at all:) We do however, have a very effective remedy, cherries! We haven't quite figured out why the gout attacks are so timely however, Marion has her theories. When asked, her reply is always the same.

"It's nature's way of waking up these old bones, it's as simple as that" she retorts:)
Now before you head out to the supermarket to get your gout supply of cherries, you had better seek out The Best Cherries for the Gout, first. I, on the other hand, have an Easter dish to guess.

"Okay, Marion, shoot."

"Ta Dah" she squeals again, "Castroville Eggs!"

"Is it Eggs with Artichokes?" I answer in an instant.

"It sure is" she exclaimed. I want this for breakfast Easter morning" she says, as she shows me this picture from Recipes from America's Favorite Resorts (©1985)
Castroville Eggs
As you can see, that is not any old Egg and Artichoke dish. How did I immediately know the answer? Well, I sorta kinda guessed. You see, I figured since Castroville California claims to be "The Artichoke Center of the World," what else could it be? We won't get into my knowledge and the legend of California's artichokes, that, dear readers was a post I just never got finished in time. (there are oodles of those:) In the meantime, mark your calendar for May 19th and 20th of this year because that's when the town of Castroville is holding its annual Artichoke Festival!
According to The California Artichoke Advisory Board, as of the 2007-2008 crop report, "Virtually 100 percent of all artichokes grown in the U.S. came from California." I didn't seek out the percentage that come from Castroville but it seems to me it is a lot! So, why wouldn't there be a dish that bears its name? But, further investigation was needed. (oh I know, I drive Marion crazy when I do that too:) I can't help it, sometimes, I just have to get to "the heart of the matter!" (pun intended:)
My first thought was to see if the source of the recipe The Lodge at Pebble Beach, still existed. Indeed it does!
Since 1919, The Lodge at Pebble Beach has been a legendary California haven for discerning clientele....Pebble Beach Resorts is a legendary place...It's no wonder Pebble Beach Resorts has attracted extraordinary visitors throughout its history. From Samuel F. B. Morse to Clint Eastwood. Teddy Roosevelt to Sir Winston Churchill. Jay Leno to Chef Thomas Keller. Bing Crosby to Bill Murray. Bobby Jones and Jack Nicklaus to Phil Mickelson and Tiger Woods.
My next stop was the historic Gallery Cafe. While there, I downloaded the current dining menu to see if Castroville Eggs were by chance, still on the menu. They weren't.
I was left to my own devices, Recipes from America's Favorite Resorts:
...Breakfast too holds special rewards for those who visit the charming Gallery above the putting green. Even the most avid golfers have been known to postpone their morning rounds for the zesty flavor of Castoville Eggs.
I couldn't help myself, I did a quick search to see if I could find the recipe for Castroville Eggs online, just out of curiosity of course:) Although I did find a few Egg Benedict recipes that did include artichokes, none came close to the attractive dish Marion was so mesmerized by except perhaps that New Orleans favorite, Eggs Sardou.
Eggs Sardou
image via wiki
Apparently, Eggs Sardou also have a "linkage" heritage. According to most accounts, they are named on behalf of a French playwright of the 19th century, Victorien Sardou, who was visiting New Orleans when the dish was created. I found an image of him at wiki.
Eggs Sardou is a French Creole cuisine dish made with poached eggs, artichoke bottoms, creamed spinach and Hollandaise sauce. It is on the menu of many Creole restaurants in New Orleans, including Antoine's, where the dish Eggs Sardou was invented. Antoine's has given the dining world many famous dishes. It is the birthplace of such culinary classics as Oysters Rockefeller, Eggs Sardou and possibly Pommes de Terre Souffles.
Antoine's is an 172 year old New Orlean's institution. The Times-Picayune food critic, Gene Bourg, once wrote "New Orlean's without Antoine's would be like the Giza without the Great Pyramid." Perhaps a bit dramatic for our times but probably quite accurate for the day. Antoine's has an infinite list of "celebrity" visitors including, Mark Twain, Sarah Bernhardt (namesake of many dishes including these cookies from Martha Stewart:) Ty Cobb, Tennessee Williams, Princess Ann to name a few. At least seven Presidents have dined there including both Theodore and Franklin Delanor Roosevelt.
I asked Marion if she would prefer Eggs Sardou for Two rather than the Eggs Castroville for Easter breakfast, she plainly refused. I tried to convince her that although the Castroville Eggs indeed look tempting in the picture, I wasn't sure how I would fare making fresh artichokes to use as the petals. Although, I must admit, over all, the egg recipe in the book does seem a bit easier than this! And, I could omit the petal presentation:)
Cooked fresh spinach is creamed with a Bechamel Sauce. A drop or two of Tabasco sauce is added. The artichoke bottoms are warmed in a 175-degree oven for five to ten minutes. The Eggs Sardou are assembled by placing spoonfuls of the warm creamed spinach on a warmed plate. The artichoke bottoms are placed on top of the creamed spinach and the poached eggs are set inside the artichoke bottoms. The assembly is then covered in the Hollandaise sauce. Some cooks omit nutmeg and cloves from the Bechamel sauce when using it to cream spinach for Eggs Sardou. The Eggs Sardou served at Antoine's Restaurant include truffles, ham and anchovies. Other restaurants typically omit one or more of these three ingredients. Eggs Sardou should be served at once, while the spinach, artichokes, poached eggs and Hollandaise sauce are still warm. For this reason, a warmed plate or bowl is recommended in most recipes. The garnish, if any, should be something of a color that contrasts well with the yellow Hollandaise sauce that tops the Eggs Sardou. This may be anything from crumbled bacon or a small dice of ham to a simple sprinkle of paprika. If Eggs Sardou are served as an appetizer course, no side dishes are needed. If it is served at brunch, or as an entree, the side dishes should be such that they do not overpower the muted, carefully blended flavors of the eggs, spinach and sauce. If wine is to be served, it should be white, preferably a slightly sweet white wine.
Eggs Castroville it will be then! But, before we get to the recipe, I would just like to give you a glimpse of the Antoine's book that I have in my collection. (I actually have a few Antoine's booklets but this one is from 1935, the oldest one I have:)
Eggs Castroville
Eggs Castroville
Recipes From America's Favorite Resorts
4 egg yolks
1-1/2 tablespoons cold water
1 cup melted butter
2 tablespoons lemon juice
2-3 drops liquid pepper sauce
1/2 teaspoon red pepper flakes
1/2 teaspoon salt
1/8 teaspoon pepper
8 artichoke bottoms
8 poached eggs
24 slices cooked bacon, sprinkled with black pepper
Directions:
Whisk yolks and water in top of double boiler over simmering water. Continue whisking until yolks thicken and pull away from the bottom of the pan. Slowly add butter, whisking constantly. Whisk in lemon juice, red pepper sauce, red pepper flakes, salt, and pepper.
Top each artichoke bottom with a poached egg; spoon over sauce. Serve with bacon. Serves 8 people.
Just in case I don't make it over before Easter...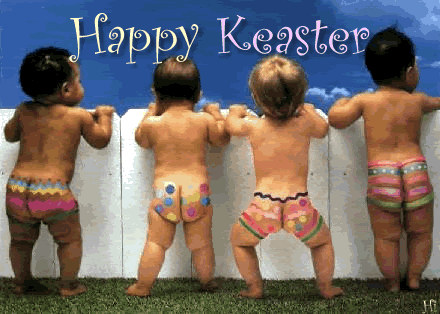 Happy Easter!
Louise
Resources
1. Cherries Against Joint Pain
2. Williams_Sonoma Eggs Sardou
3. Galatoire's Crab Sardou
4. Poached Eggs on Artichoke Toast
5. Poached Eggs on Artichoke bottoms in a Sage Pesto
6. Poached Eggs with Artichokes Barigoule
7. Sarah Bernhardt Cakes
8. Sarah Bernhardt Cookies with Buttercream Frosting